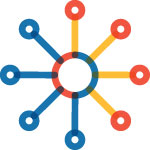 What is K-14 Education?
K-14 is an innovative educational model that incorporates Roane State Community College and Tennessee College of Applied Technology at Harriman into programs and career pathways within the high school curriculum that gives every single student in Roane County the opportunity to graduate high school with a college degree or certificate.
Roane County has a once in a generation opportunity to bring this revolutionary educational model to life. Because of Roane State's and TCAT Harriman's willingness to partner with Roane County Schools, education in Roane County can become the premier model for workforce development in the state of Tennessee.
The model is only possible by bringing enough students together to offer the programming necessary to support our local businesses. Combining high school students from Harriman, Kingston, and Rockwood onto one comprehensive high school creates 15 new career pathways that incorporate TCAT, RSCC, and local business through work-based learning opportunities. This model also preserves Oliver Springs High Shool as a STEAM focused school, and Midway High School as a community focused high school.
K-14 would provide at least 3 college classes for every single student, with opportunity to pursue post-secondary credits up to attaining a college degree or certificate. Studies show adults with "some college" will earn, on average, $250,000 more dollars over the course of their career. K-14 would have an immediate impact on the Roane County economy.